All donations are Tax-Deductible.

It's Easy To Be an Angel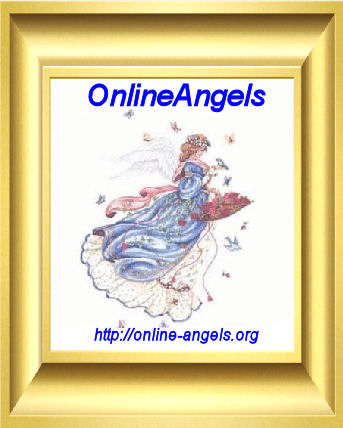 It means so much when someone can reach out and touch a person in need in a very personal,
loving way. Here at Online-Angels we help you show someone who is in need of caring or
of a well-deserved thank you that you are thinking of them. Whether the person is seriously ill,
has been touched by tragedy, needs encouragement or even recognition for a heroic or
humanitarian act, we can send them your love in the form of something warm and cozy
to wrap around them, like a hug from you.
How? We spread that love one love-ghan box at a time!
Whether you know someone who needs to be wrapped in a love-ghan or want to be an online angel
yourself, we invite you to contact us.
Love-ghans - made from 100% love!
We make 6" and 12" knitted or crocheted squares and put them together as "Love-ghans" -
lap robes or blankets - for those who have suffered tragedies, loss of loved one, severe illnesses,
or someone who just need to be uplifted.
We also send hero-ghans/humanitarian-ghans to those we want to honor for going that extra mile above
and beyond to inspire or change someone's life.
If you are more comfortable making smaller or larger squares we accept
ANY size as we are grateful for each and EVERY square we receive!
Request a Love-ghan for someone in need
But wait---there's more!
Are you an Angel without wings?
Don't feel guilty if giving turns out to be fun! We'd love your help! You can:
* Make 6" 12" knit or crochet squares for our Love-ghans
Don't knit or crochet?
We can share any homemade crosses, angels, cards, or
whatever you make to cheer the person up when they receive their care
boxes. Or you can donate yarn, craft supplies, material, thread, health and beauty items,
children's toys, stuffed animals, slippers, cards, angels, crosses,
baby items, chemo hats, eyeglasses, school supplies, hats, scarves, gloves or
anything you think someone would like to receive.
Help us collect the items below
* Aluminum can pop tops -- helps defray costs for families that stay at Ronald McDonald Houses.
* Canceled stamps -- to help the poor;
MADE FROM 100% LOVE:)
We send any color, any size chemo caps to
a local chapter that distributes them to cancer hospitals.
If you can knit/crochet any chemo caps for us we would greatly appreciate it!
We are collecting the following items to send to Our Troops: Ear warmers,
hats, slippers, boot socks, gloves, cool ties, lip balms, beef jerky,
trail mix, cup-a-soup, kool-aid, instant hot cider packs, and chemical
hand-warmer packets.
We have 4 annual projects that we collect special items for. school
supplies for our Back to School Project, Toys, Stockings, Stocking
stuffers, Stuffed toys, new clothes, board games, and other items for
our Toys For Kids Project. Winter items for our Warm up project.
IF YOU CAN HELP WITH ANY OF THESE PROJECTS, PLEASE EMAIL ME.